トップへ » Our Clinic » Media Coverage
Dr. Shigeru Inaba was introduced in the Asahi Shimbun
January 30, 2009 (Fri) Asahi Shimbun,(Morning Edition) [For Your Peace of Mind]
Raising Awareness of Oral Hygiene
This is an article that was printed in the evening edition of the Mainichi Shimbun from when Dr. Shigeru Inaba was working as an assistant professor for the 2nd prosthetics lecture at Nippon Dental University. Here we introduce the article's content.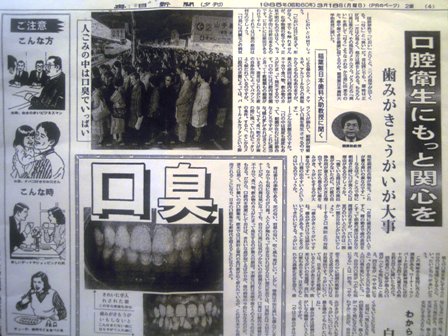 [It is Important to Brush and Rinse Every Day]
When you look up the word 'smell' in a Japanese dictionary, you may notice that there are 2 different Chinese characters listed, 匂い, and 臭い. Both of these words are pronounced in the same way, nioi (nee-oy), but the meanings for each entry are exact opposites. The first one has a positive connotation to it. It is a pleasant smell. The latter, however, may make you cringe. Of course bad breath is described by the latter entry. It is a matter of where the smell generates from. How can you get rid of an unpleasant 臭い 'smell' and replace it with refreshing breath that 匂う 'smells good'? Is it really possible to maintain healthy teeth and healthy gums?
What are smells made of?
'Smells cannot be seen, have no shape, and cannot be touched with your hands. They consist of very tiny particles called atoms. It is not that we don't know what they are, but in fact, these atoms can be chemically analyzed quite accurately. This means that when something smells, a cause for the smell can be found.
So what causes bad breath?
'In some situations bad breath may be caused by disease in internal organs or simply from consuming things such as garlic, onions, and alcohol. However, the most common cause of bad breath is a buildup of food and drink particles in the mouth due to insufficient oral cleaning.'
What is the situation?
'The insides of our mouths are warm and moist which makes them an ideal place for bacteria to grow. There is no need to mention the myriad nooks and crannies of the mouth that are perfectly suitable for bacteria to hide in. Add to these factors food particles building up in between teeth and you have perfect growth conditions. Under these conditions a volatile sulfur compound known as methyl mercaptan is produced. This is one of the major factors that causes bad breath.'
Oh, I see. By the way, is there any reason why morning breath is especially poignant?
'The main reason for this is that you produce less saliva while you are sleeping which effectively reduces your mouth's self-cleaning function. Therefore it is extremely important to brush and rinse before going to bed.'
Is it true that some people are prone to have bad breath?
'People with nearly perfect teeth are fortunate to have their teeth cleaned naturally and more effectively by the constant rubbing of their inner lips over a wider surface of their teeth. However it is estimated that only about 30% of the population enjoy such perfect conditions naturally.'
OK. So how can I prevent bad breath?
'Brushing and rinsing are a very important part of the equation. There are places that cannot be reached by brushing. This is why we need to rinse as well. It is even more effective to rinse with a liquid that contains components that prevent bacterial growth. Japanese people still have an indifferent attitude towards rinsing, but rinsing is an essential part of oral hygiene in the United States and Europe. There are some very effective mouthwashes. In Japan we are faced with an aging society and many elderly people find it difficult to brush their teeth. I would like everyone to have a deeper acceptance of rinsing as well.'
It seems that some people consider brushing their teeth to be too troublesome while rising is rather easy.
'As you would expect, brushing is extremely important. However, in an experiment where the subjects forewent brushing for one week, just using mouthwash proved to remove many impurities. This experiment showed us that rinsing can be very effective.'
Aren't there impurities that cannot be removed by brushing?
'It is necessary to undergo periodic checkups by a dental hygienist at a dental clinic. If it cannot be removed with brushing then it will be impossible to get rid of impurities or remove hardened plaque from your teeth by yourself. If you leave your teeth be, without undergoing professional cleaning, you may not only suffer from bad breath, but you may also suffer from worsening gingivitis.'

Well cared for teeth will make you and everyone around you happy. If you forego brushing and rinsing, your teeth will become nasty and you may eventually need dentures. Also, bad breath is the number one killer of fun dates and shopping with friends. Be sure to brush and rinse thoroughly every day.
Inaba Dental Clinic also provides advice for dealing with bad breath.
If you are worrying about bad breath, please see us for a consultation. Surely we have a solution for you.
*Useful for Strengthening Mouth Muscles......Labilin Trainer*
It was reported that a training group held an instructional class on how to use an oral training apparatus developed by dentists for the purpose of oral function rehabilitation on the 12th at Honjo Chuo Community Center in Honjo City.
About 160 people, including healthcare workers, participated in the training where they practiced how to use an eating and swallowing training implement called the 'Labilin Trainer'.
The training group was sponsored by the Kodama Sphere Care Manager Liaison Council.
Mr. Takeshi Kikuya, Assistant Professor from the Nippon Dental University Hospital, together with Dr. Shigeru Inaba, the masterminds behind the Labilin Trainer and former Professor of Gerodontology at Nippon Dental University, served as lecturers.
Mr. Kikuya, who is also the director of the Oral Care Rehabilitation Center, emphasized, 'It is not enough for just our teeth to be in good condition. It is also necessary to prevent function loss of the mouth.'
He taught mouth exercises that can strengthen the mouth and lead to enjoyment of a rich diet.
After this, Mr. Inaba introduced the Labilin Trainer, a product created in cooperation with a number of individuals with connections to Nippon Dental University, starting with Mr. Kikuya.
He taught how to exercise the tongue and lips.
Director Yoshinari Iizuka of the Iizuka Dental Clinic in Honjo City who served as chairperson stated, 'It was an enlightening training group filled with useful information. I believe the importance of oral functions was well-conveyed.'
According to Dr. Inaba, the Labilin Trainer is an implement that strengthens joints in the mouth area. It is characterized by its ease of use, which is comparable to that of a toothbrush, for everyone from infants to seniors.
'Not only can it prevent eating and drinking spillage accidents for seniors, but it also proves useful in recovering from speech impediment and other lost functions due to stroke,' said Dr. Inaba.
Here is an article by Dr. Shigeru Inaba that was published by Kyodo News Service in 31 newspapers around the country in 1996. The author seems to have forgotten about the content of this article, but it touches upon some topics that are very interesting to us dentists, and of course to patients as well. Following is the content of the article.
[Pain and Discomfort in the Tongue]
There are a surprisingly large number of elderly people who suffer from abnormalities of the mouth.
Among severe cases, where people suffer from reduced salivary production or stickiness in the mouth, a few patients have talked about how miserable it can be suffering from numbness in the mouth and tongue pain.
The relationship between these kinds of oral abnormalities and an increase in the mycete candida, which is a type of fungus, is garnering attention.
Professor (at the time) Shigeru Inaba from Nippon Dental University says, 'Increased levels of candida inside of the mouth can cause nothing but trouble.'
[Reduced Function Due To Aging]
Saliva is an in inextricable factor in oral abnormalities. Roughly speaking, there are 3 types of salivary glands. There are the parotid glands in the cheeks, the submandibular glands in the lower jaw, and the sublingual glands under the tongue.
The amount of saliva excreted by an average adult is 1 - 1.5 liters/day. This is roughly equivalent to 2 bottles of beer.
Saliva has several different functions. It contains digestive enzymes that aid in digestion, acts as a lubricant by wetting the inside of the mouth and throat to help food pass down smoothly, and it acts as a cleanser keeping the mouth clean. Moreover, it serves as a mild antibacterial.
However, the functioning ability of salivary glands decreases with age and as we get older we tend to produce less saliva. When the saliva flow slows down, that is when the trouble begins.
This is because not only does food begin to stick to the mouth hindering swallowing, but the inner mouth itself becomes unclean.
Professor Shigeru Inaba states, 'There are tens of kinds of bacteria living in our mouth that we are familiar with, among those, candida tends to grow very easily when using dentures.'
[Opportunistic Infections]
Moreover, in the case of the elderly, in whom the immune system is beginning to weaken, opportunistic infections can occur easily. This is the background under which elderly people are more susceptible to candida infections. Data has been collected and analyzed by Professor Inaba of the Gerodontology Department from 115 male and 149 female recipients.
The results reveal that in 11 males and 12 females there were more than 100,000 candida bacteria present per milliliter of saliva. In half of these cases the number of candida bacteria was more than 1,000,000.
All recipients were originally patients suffering from oral disease, but facts reveal that more than just a small number of people are suffering from candida infections.
Professor Inaba states, 'Candida was detected in nearly 95% of all recipients. Levels of around 1000 bacteria per milliliter are nothing to worry about, but when 100,000 or more are present, you can expect to experience various symptoms. In actuality, more than 5% of recipients complained of discomfort or pain.'
What kind of symptoms can you expect? First the tongue throbs with a burning pain, especially when it is dry. Also the inside of the mouth may sting when eating salty or spicy foods. Flavors may taste off or strange, and the inside of the mouth may feel sticky and uncomfortable. Many cases with these symptoms have been reported.
[Possible Cause of Pneumonia]
There are some cases that are completely asymptomatic, but the reason why candida must not be overlooked is that it is the culprit that leads to visceral mycosis. There on no further defenses if a fungus such as candida makes its way into the vulnerable organs of elderly people. For this very reason, the number of patients suffering from visceral mycosis is gradually increasing and much attention is being given to this disease as a new type of ailment in our aging society. Professor Inaba makes his appeal saying, 'Increasing candida bacteria inside of the mouth may be the cause of esophageal candidiasis or pneumonia. For this reason it is important for us to keep our mouths clean, and it is necessary for elderly persons to thoroughly clean their dentures. When you feel like your saliva has become sticky or strange in any way, you can easily take preventative action by rinsing your mouth with mouthwash.'
June 12, 2009 Press Release
Announcing a Full Denture Treatment for Advanced Cases Using Maxillomandibular Simultaneous Impression
April 27, 2009 Press Release
Inaba Dental Clinic Establishes an Emergency Dentures Consultation Window Especially for People Ages 50 - 79
February 18, 2009 Press Release
31 Years after Treatment, Riegel Telescope Dentures Prove to Be Long-lasting and Reliable.
IPSG is currently selling DVDs.
Witness firsthand the ultimate full denture experience
6 DVDs
Former Professor Shigeru Inaba, Nippon Dental University
Challenge your ideas about dentures by experiencing the complete process.
From the first stages all the way until putting them on, see how the denture space is recreated and dentures are made.
Here we introduce an epoch making new method in which bite-taking, Gothic arch tracing over tooth alignment, and maxillomandibular simultaneous impression face-bow transfer is all carried out in just one step.
6 DVDs 63,000 yen (tax included, shipping not included)
------------------------------------------------------------
Diagnosis and Treatment of TMJ Arthrosis
2 DVDs
Former Professor Shigeru Inaba, Nippon Dental University
Witness live diagnosis and treatment of TMJ arthrosis patients as their numbers continue to increase in recent years. This DVD features occlusion diagnosis using the KaVo PROTAR articulator, and Digma jaw function survey equipment that can be used chairside simply and easily. Pre-exam and post-exam evaluation is also featured.
2 DVDs 21,000 yen (tax included, shipping not included)
------------------------------------------------------------
Diagnosis and Treatment of TMJ Arthrosis II
3 DVDs
Former Professor Shigeru Inaba, Nippon Dental University
TMJ arthrosis can cause various symptoms throughout the whole body. In this DVD you can view detailed explanations of various processes from click sound treatment to posture improvement. You will be surprised at the level of improvement achieved in just one session.
3 DVDs 31,500 (tax included, shipping not included)
------------------------------------------------------------
Diagnosis and Treatment of TMJ Arthrosis III
3 DVDs [Master the Secrets of Occlusion Adjustment]
Former Professor Shigeru Inaba, Nippon Dental University
In recent years research has denied the relationship between TMJ arthrosis and occlusion, but this is far from the truth. In this DVD, watch us treat trismus, temporomandibular joint pain and masticatory disturbance with occlusion adjustment.
Understand clearly the details of occlusion adjustment with this DVD.
6 DVDs 31,500 yen (tax included, shipping not included)
*Patients and content in each Diagnosis and Treatment of TMJ Arthrosis DVD are different.
Please inquire by mail for questions concerning purchasing DVDs or you can send mail directly to the IPSG office.
2-15-9 Yushima, Bunkyo Ward, Tokyo 113-0034 
IPSG Comprehensive Dentistry Society
Tel : 03-5856-6787 Fax: 03-5809-8637
E-mail : IPSG.8028@gmail.com
カテゴリー一覧
We hold free consultations for dentures.
---
トップへ » Our Clinic » Media Coverage